Midwest Tower Leasing, Inc.
For Management and Leasing of Towers in Michigan, Illinois, Indiana and Wisconsin
Midwest Tower Leasing, Inc. has been serving the communications industry for over 24 years with comprehensive tower leasing services. Located near Chicago in Kankakee, Illinois, our marketing personnel, technicians and engineers provide a complete range of services throughout the Midwest to both the tower owner and the tower tenant.
Our services include Tower Site Leasing, Tower Site Management, and Tower Site Marketing.
For tower site leasing information click here.
For contact information click here.
TOWER LEASING
With over 80 tower sites in the Midwest Region, we are sure to find a tower site to meet your needs. You can browse all of our available tower sites here.
Each site listing includes:
City
State
Latitude
Longitude
Height
Area Maps

Some sites also include photos of the structure.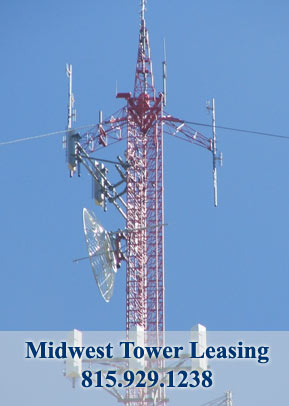 ** NEWS **
Midwest Tower Leasing is excited to announce that space is now available 14 new towers located in AL, FL, IN, MI, MS, OH, TN. See our tower site list for more information.